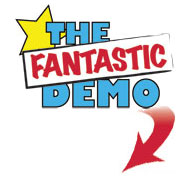 TAKE A SNEAK PEEK!
The Making Fantastic Short Films Demo, Now Playing!

In just a few seconds (10-20 seconds, depending on your connection speed), the demo should begin playing below automatically.
This Flash demo runs 2 minutes and 21 seconds, and is approximately 14MB in length. It is best viewed over a broadband connection.
FLASH HIGH-RESOLUTION VERSION (14MB)


(Please note that this image has been compressed
for delivery over the internet;
the actual DVD is full quality resolution.)