A MUST-HAVE FOR EVERY SCHOOL!
No Experience and Minimal Technology Required!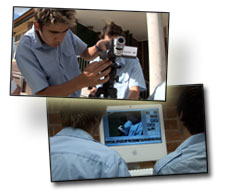 We know your school has limited funds and limited resources. That's why we designed a course that requires only the barest essentials:
Video Camera (can be borrowed)
Computer Editing System (using basic software)
Mac or Windows?
MFSF does NOT require a Mac computer. All that's needed is a basic computer with video editing capabilities. The onscreen characters use a Mac to demonstrate the process of editing and short film making. But specific editing software tutorials are outside the scope of this resource, whether for iMovie (which is used onscreen) or any other software. Please refer to your software's Help section for specific instructions.
Teachers need NO PRIOR KNOWLEDGE of film or filmmaking, and will find the easy-to-use, expertly-designed course simple, fun, and educational.
Classes can be broken down into groups of 6 - 10 students, allowing easy use by any class size.
We've even included raw SAMPLE footage to enable students without a camera to learn the lessons and practise editing techniques.
Teachers and students alike will love this course! Encourage your budding Spielbergs. Get them MAKING FANTASTIC SHORT FILMS today!