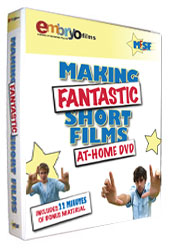 A MUST-HAVE FOR EVERY FILMMAKER!
Home Version
(Coming Soon!)

MFSF was designed to be a complete course for primary and secondary schools, but the DVD is a fantastic introduction to filmmaking for anyone.
The new At-Home DVD version of Making Fantastic Short Films will be available soon. Students, film enthusiasts, and would-be filmmakers eager to make their short film to submit to the myriad of festivals now available world wide will love this informative resource.
You'll learn:
An Overview of Pre-Production, Production and Post-Production
Creating the Story
Writing the Script
Breaking Down the Script
Drawing Up the Storyboards
Preparing the Shoot
Shooting the Film
Editing the Rough Cut
Completing the Final Cut
Watching the Finished Film
Designed for kids and teenagers, ages 10 - 18, anyone of any age that's new to film and interested in filmmaking will love this DVD.
The recommended retail price is $49.95 Australian (including GST). But if you join the PRE-ORDER LIST, you'll get one of the very first copies for half price! Just $24.95 (including GST).
But be sure to join the PRE-ORDER LIST today, because once this product is released, this offer will be removed. Simply email mfsf@embryo-films.com with the subject "PRE-ORDER LIST", and include your contact details. We'll contact you as soon as it's ready for release.